Welcome to Queens Park Tennis Club, Brighton
We are a volunteer-run parks tennis club in Queens Park, Brighton, with six tennis courts and a club house. QPTC offers club sessions and team competitions, tennis coaching for juniors and adults, and private lessons. Or you can just have a hit. We have an online court booking system available to all (£8.69 per hour for non members). Our club teams compete in the Brighton & Hove Parks League. For details of our busy juniors tennis programme please click here.
Follow QPTC on Facebook.
QPTC membership is £100 per year for adults (£50 students, £35 Juniors). Click here for details. Visitors are welcome – you don't need to be a member to book a court. Click here.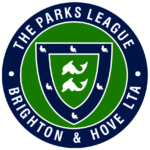 Click on the logo to find out more about The Parks League, Brighton & Hove's most popular annual tennis competition. The Parks League involves 12 clubs, 40 teams and 650+ registered players. Queens Park enters five mixed teams every year. Contact the QPTC club secretary to find out more.