Vandalism: We Need Your Help
March 24, 2021
As mentioned in previous posts, there has been a significant amount of work completed on site during lockdown. We'd rather be playing tennis, but at least we've used the window of opportunity to get disruptive building work  out of the way.
What has been difficult, however, is the high volume of vandalism and trespass over the last few months. Damage has been caused to the clubhouse area, and the fencing around the courts on several occasions. Large amounts of debris, including heavy stones, have been thrown on court. The clubhouse and the lower courts have repeatedly been the site of large scale anti-social gatherings, with accompanying acts of vandalism. Needles have been found around the clubhouse.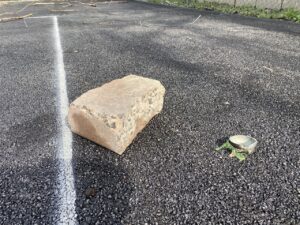 Acts of vandalism and trespass have been reported to the police and incidents recorded. But we need your help. If you see any such activity around QPTC, please let us know asap. Contact any of the coaches or directors immediately. You can also contact our designated Police Community Support Officer Sean Chandler:
sean.j.chandler@sussex.pnn.police.uk
Preventing or deterring just one large scale gathering can save QPTC from significant and expensive damage.
Vandalism, of course, is much more likely to occur without all our members and visitors being out there playing tennis. The more the courts and clubhouse are used, the lower the incidents of anti-social behaviour. The circumstances of the present lockdown are highly unusual and hopefully will not be repeated. In order to prevent further damage, however, it would be helpful for all members to be aware of the situation, and to keep an eye out in the future. Thank you.
Tags:
QPTC
,
Queens Park Tennis Club
,
tennis