Queens Park Table Tennis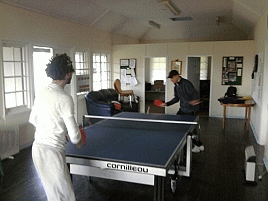 Table tennis has become more popular with many of our members.
We have recently invested in a new competition standard, indoor, foldaway table which takes seconds to roll out and open.
The spacious clubhouse, which was refurbished in June 2018, provides ample space for playing.
Although it is provided for informal play, it is hoped that a tournament and possible ladder or league may be set up this year if enough members subscribe to the interest.
Table tennis bats and balls are provided for all members who wish to play.
The clubhouse is equipped with a kitchen, including cooking utensils, crockery and cutlery, toilets, changing facilities, sofas, chairs, tables and BBQ equipment.