QPTC Court Lighting
November 19, 2020
Work has begun to install underground ducting which will provide a power connection between the Clubhouse and courts 1, 2, 3 & 4. The cables will carry power and data which will operate the new electronic gates and, eventually, the court lighting system.
QPTC was granted planning permission for the installation of court lighting by Brighton & Hove City Council at the beginning of November.

The project is being managed by QPTC director & coach Mel Bowden: "The current stage of the works has been brought forward to coincide with lockdown therefore minimising disruption. During the next five months the gates and lights will be installed in phases.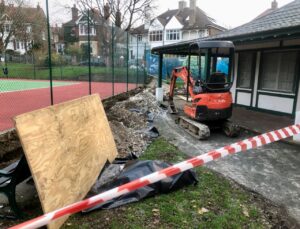 "This is a major step forward for Queens Park Tennis Club." says Mel. "This will create more court time for club members and visitors in the winter months. It will also allow after school junior coaching to complete the juniors programme."
For court lighting, there is likely to be an additional charge of £5 per court hour for members.