Queens Park Tennis Club Membership 2021
PLEASE NOTE: QPTC is presently running a waiting list for full annual adult membership [M1], and student membership [M3]. Please contact the membership secretary to find out more: alan.sanchez@qptc.co.uk
ANNUAL MEMBERSHIP 2021
(M1) Adults membership – £100
(M2) U18 (12 to 18 years) Junior membership – £35
(M3) Full Student membership – £50
(M4) U11 (upto 11 years) Junior membership £25
(M5) Parent/carer of U11  (allows court booking / play on court with your children)  £15
(M6) Extra parent/carer of U11  (to play with junior member) on court) £5
(M7) Social Membership allows use of clubhouse and facilities £5
(P1) Adult pay and play £8.40 (hourly charge City tariff)
(P2) Junior pay and play £4.20 (hourly charge City tariff)
QPTC does not offer refunds for court time not used, or rain affected bookings, or annual membership subscriptions
Benefits of membership
Full adult membership, plus student and junior membership, entitles members to book courts for free, with priority booking seven days in advance, using our online booking system. Click on Court Bookings for further details. If you download the ClubSpark mobile phone app, you can book courts using your mobile phone. To keep up to date with club events and activities, please join our QPTC mailing list. Click here to sign up.
TOP TIP:  take care of your log in details! Please keep an accurate record of the email and password you used to register online with QPTC. ClubSpark will not allow you to book online, or via the App, if you use incorrect or multiple accounts.

Please note that members (or their guest) must pay a £3 per hour court fee when playing with a visitor. There is no fee when a full QPTC member plays another full QPTC member.
Court Booking explained
Adult members get priority booking, which means they can book their courts online seven days in advance
Student members can book online, which means they can book their courts four days in advance
U18 juniors can book book online which means they can book their courts four days in advance
U11 juniors cannot book online
U11 parent/carer can book on line 24 hours in advance for their children to play
U11 extra parent/carer / social member cannot book online
Adult pay and play can book and pay online 7 days in advance
Junior pay and play can have a parent or guardian book and pay online 4 days in advance
Other benefits
Children of 11 or under can join and will have all the benefits of the junior programme which includes :
Discounted group and individual coaching
Free entry to tournaments
Free entry to Friday afternoon juniors session: 5pm – 6pm
NOTE To book juniors onto courts online parents/guardians must join under the catogory M5
Full adult,  student and invited U18 members can join club sessions:
Summer (April to September)
Mondays 6:00pm
Fridays 6:00pm
Sundays 2:00.pm
Off season (October to March):
Sunday 2pm .
Parks League Tennis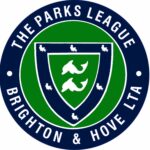 On Tuesday, Wednesday and Thursday, from April to August, the courts are used for Parks League matches from 18.00. These are against other clubs in the Brighton And Hove Parks League. Queens Park enters five teams in the Parks League, each comprising a men's pair, a ladies pair and two mixed pairs.
New balls are provided for matches and used balls for club sessions. Once you are a member, you won't be asked to pay any additional match or ball fees.
Throughout the year we have American Tournaments and a club tournament with finals day towards the end of the season as well as other cup tournaments and social events.
How To Join The Club
Please contact our membership secretary Alan Sanchez (see details below). Alternatively you are welcome to drop by one of our regular club sessions which are held on Monday and Friday evenings from 6pm during the season and on Sunday afternoons from 2pm throughout the year. These sessions are for practice and for fun, and for you to meet and play against other players of different levels. We only require that you are of a standard where you can serve and maintain a rally.
If you are a beginner or lower ability player we have a separate club session on Saturday afternoons between 2pm . If this might be your tennis level, please make contact with Alan for info.
If you wish to join, Alan will ask you to fill out a membership application form.
For membership enquiries:
Alan Sanchez, Membership Secretary
Mobile: 07972 784 471
Email: alan.sanchez@qptc.co.uk
Legal Disclaimer
Queens Park Tennis Club has taken all reasonable care to ensure that the information contained in this website is accurate on the stated date of publication or last modification. It is possible that the information may be out of date, incomplete or the opinion of the author. Queens Park Tennis Club accepts no responsibility for the consequences of error or for any loss or damage suffered by users of any of the information and material contained on this website or any site you may access through this site. Materials contained on this website are subject to copyright and other proprietary rights.
Membership
QPTC CIC reserves the right to cap total adult membership at 210 members in order to prevent overcrowding and give full value to all existing members.
Copyright Statement
All images contained on this website remain the property of Queens Park Tennis Club. Images may not be downloaded, reproduced, copied, projected, or used in any way without express written permission.
GDPR & Privacy
Click here to download our policy
At Queens Park Tennis Club we understand that we have a responsibility to protect and respect your privacy and look after your personal data. Data Protection law will change on 25 May 2018 and this Privacy Notice sets out your rights under the new laws. In brief, this Privacy Notice explains what personal data we collect, how we use your personal data, reasons we may need to disclose your personal data to others and how we store your personal data securely.
For clarity, Queens Park Tennis Club may be both data controller and data processor for your personal data under certain circumstances.
We must advise that this policy is subject to change and improvement, so please check our website on a regular basis for any further changes.
FAQs:
1 Why do you need to process my data?
The law now states that we are only able to process personal data if we have valid reasons to do so. Anyone who becomes a member of this Club or books its facilities (courts or Clubhouse) will need to provide certain information including, but not restricted to, name, contact and payment details where needed. We will use this information to process and administrate your membership or booking.
2 Who can see my data?
Membership Secretary Alan Sanchez will be able to see your membership data. Alan stores this information on a password protected computer that has security software.
Team captains will use the contact details provided to them by Pauline O'Reilly to administrate team matches and events as will Mel Bowden for the administration of coaching. Again, these will be stored on password protected, secure computers or on lockable mobile phones/androids.
Court booking is administrated by the LTA's Clubspark system and will be subject to their GDPR guidelines. Schools and organisations' details for court bookings (not completed via Clubspark) will be held by Keith Stollery, Treasurer, who administrates these partner bookings. Any details Keith has are again stored on a password protected system with security software.
Conrad Brunner, Mark Cull, Keith Stollery and Mel Bowden can see your booking information as administrators but can't access or change it in any way and they are also governed by the Clubspark's GDPR policy as administrators.
3 How long will you keep my data for?
For as long as you are a member at which point you will be deleted from our records. Alternatively, you can legally withdraw your consent for us to hold your data at any time and we will comply. This is known as your 'right to be forgotten'. However, this may affect your active membership of the Club as you would no longer receive updates and correspondence from us.
Again, information held by Clubspark is subject to their GDPR rules.
4 Will you give my data to third parties?
No – we will only use your information to administrate Queens Park Tennis Club. At no point will be give any information we have to third parties without your express prior consent.
5 Use of Cookies on the Queens Park Tennis Club website
Our webmaster Mark Milligan writes: "We do not collect any data from our users and do not use cookies except for admin log-ins to WordPress. We also do not allow comments on the site, so no data is collected there. We do use the standard version of Google Analytics on the site, which tracks general site usage without collecting any personal data. We will continue to monitor this situation to ensure full compliance with GDPR rules."
6 What if there's a data breach?
In the unlikely event of a data breach, we shall ensure that our obligations under applicable data protection laws are complied with where necessary and will endeavor to inform those affected as soon as possible.
7 Who can I contact if I don't think you're doing enough to handle and protect our data?
You have the right to make a complaint about how we process your personal data to the Information Commissioner:
https://ico.org.uk/concerns/
Information Commissioner's Office
Wycliffe House
Water Lane
Wilmslow
Cheshire
SK9 5AF
Tel: 0303 123 1113
8 Who can I talk to at Queens Park Tennis Club about this?
If you have any concerns, please contact Data Protection Officer Denise Davies on 01273 676360
Notes For New Members: Have A Quick Read