QPTC is delighted to offer our own racket stringing service at a great prices and quick turnaround. Coach Jimmy is a fast, efficient and experienced restringer of tennis racquets to professional standard.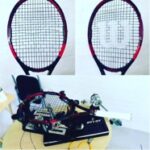 Prices as follows:
Pro's Pro Sythetic Gut (1.30mm) Re-String: £25
Pro's Pro Synthetic Gut is a performance based, classical synthetic string with a robust, monofilament core wrapped with a super-elastic filament layer. This string offers the perfect compromise between durability and good playability.
Pro's Pro Blackout (1.24mm) Re-String: £25
Pro's Pro Black Out is an innovative high-tech co-polyester string with pentagonal cross-section. Black Out's unique profile provides crucial extra spin and control. This string does not slip or lose tension and provides excellent performance. In addition, Black Out is extremely durable and designed for demanding tournament players.
Simply supply your own string and the cost will be £10 (Member) & £15 (Non-Member)
Contact Jimmy Smith on 07966 210 692 or jimmy.smith@qptc.co.uk.